Entering Your Billing Address
After you enter your payment account information, the Billing Information page appears with the Payer Payment Profile box. The first time you use WebPay the fields on this page are blank.
Complete the following steps to enter or update your billing information.
Find the Payer Payment Profile box on the Billing Information page.




Type your last, first, and middle names in the appropriate name fields.

Type the first line of your billing address in the Address 1 field.

If you have a second line of billing address information, type it in the Address 2 field. This field is optional.

Type the name of the city in the City field.

Click the State field to open the list of states.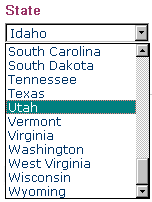 Type the first letter of the state you want to select. The list moves to the first state that begins with the letter you typed.

Click the name of the state you want to select. The name of the selected state appears in the State field.
Type your Zip Code in the Zip field. You can enter the full nine-digit (Example: 123451234) Zip Code if you know it.

Type your phone number in the Phone fields. This field is optional.

If you want WebPay to remember your billing information, click the Remember Info check box. If you check the Remember Info box, you won't have to re-enter this information the next time you use WebPay. Click here to View IHC's Privacy Statement.

When the billing information fields are complete, click Continue to advance to the Payment Review page.